Good Morning Gato # 123 – A Trip to The Best Coast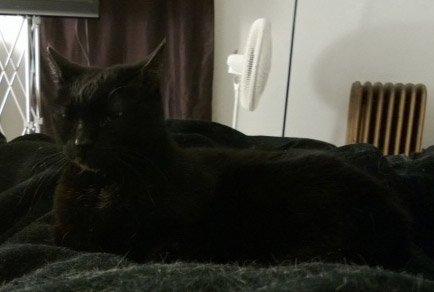 Last weekend we took a trip to Michelle's homeland: the Pacific Northwest! Even though we're super tired from all the flying (just like little Gato here, who needs constant rest from all of her relentless
math
), it has been a fun filled month. More bite sized bits of info after the break!
Microsoft Studios Twitch.tv Stream
One of the things we flew to Redmond for was to participate in not one but two Twitch.tv streams on the
Microsoft Studios channel
last Monday. If you missed the streams or just want to look at our adorable faces again, the streams are archived:
here's the first hour stream
and 
here's the second
. We had many great questions on the streams, with a lot of you asking about our release date and cost. As much as I dislike non-informational information, all I can say is that more info's coming soon, and you will be 
pleased
. Probably.  Also, well, you know, it's Summer of Arcade, so we can narrow it down to summer. Hooray!
PAX Priming it up
Ska Studios will be at PAX Prime 2013!  At a whopping FOUR DAYS LONG, this year's PAX Prime is going to be an absolute doozy, but we think we're up to task. Check back for more updates, but
don't be surprised if our booth ends up wealthy in free guitar picks…
Speaking of Streaming
As James mentioned a few weeks ago, we are porting Vampire Smile to PC.  Should we stream some of it?  It'll be really, really, really boring, but it'll maybe help drive the point home that porting is not a simple switch we fix.  James got the Windows build running today after fixing no fewer than 300 errors related to bringing XNA 3.0 code to the 4.0 framework, so we're off to a pretty good start!  We'll have more details to come but in the meantime our channel is twitch.tv/skastudios.