These Dead Waters Stir: Salt and Sanctuary Launches March 28th on PSVita!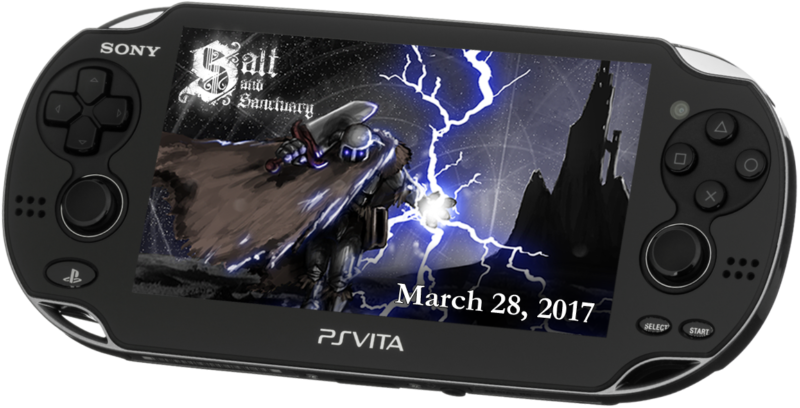 You can also find the following over at the PlayStation Blog!
It's been long. But despair not, the wait is nearly at an end.
We launched Salt and Sanctuary one entire year ago on Playstation 4. Our dreary, heavily Souls-inspired 2D action RPG was incredibly well received, and while we've been overjoyed and overwhelmed by the range of emotions your feedback held — excitement! Frustration! Enthusiasm! Rage! — we felt your resounding reminder of a promise we made in our very first trailer: that Salt and Sanctuary would come to Playstation Vita.
We're Ska Studios, a two-person husband and wife studio that lives somewhere around Seattle, and Salt and Sanctuary is our fourth major game. Salt and Sanctuary is our studios' heartfelt love letter to the Souls series: a 2D platforming dark RPG that seeks to capture the danger and mystery of a haunted, unforgiving world, the freedom of exploration and customization, and the weight of your choices meaningfully impacting each playthrough in significant ways.
Would you believe we originally were aiming to launch on Vita and PS4 at the same time? After all, a complex, deep, ARPG like Salt and Sanctuary would be a perfect fit for Vita. We may have been overambitious — reckless even! But we think the wait will be worth it, and we hope you'll agree when Salt and Sanctuary finally launches on PS Vita this coming Tuesday, March 28 for Americas and Europe with Japan coming soon.
Ska and Sickhead
Salt and Sanctuary for Vita marks the first Ska Studios title that… well… we didn't make! That honor goes to Sickhead Games, the studio behind the console ports of Stardew Valley, Darkest Dungeons, Axiom Verge and more. Not only is Sickhead Games responsible for our Vita port, but they're the ones behind MonoGame for Vita, without which Vita wouldn't have received ports of TowerFall and Axiom Verge, which Sickhead also did. They're as talented as they are overworked.
We had a small hand in the port: nudging some HUD elements here, tightening up the camera there, tweaking an effect or two when we needed to, but our contribution on the Vita port was pretty minimal. The fantastic, talented folks at Sickhead Games were the ones behind all of the low-level, nightmare-inducing logic that will make games like Salt and Sanctuary on Vita even possible.
Cross-buy, and thanks!
As promised, Salt and Sanctuary will be cross-buy across Vita and Playstation 4. If you bought it a year ago for Playstation 4, when it launches on Vita, you'll already own it!
Of course, a big thank you to you for your patience and support. No game studio can survive without the respect of its customers, and the last thing we want is to feel like we're letting you down. You've all been so awesome. Keep expunging heretics, making OP builds, doing naked level 1 runs, and abusing glitches. Above all, keep surviving.