Good Morning Gato #157 – Spring Cleaning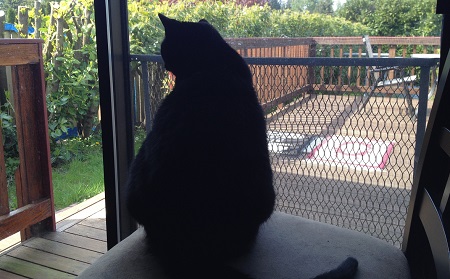 It's spring and it's glorious, but that also means it's time to clean up. All of us, Gato included, would rather stare out the window than give the house a cleaning overhaul.
Updates
I recently checked on our announcement posts to see if I could solve a mystery. We've seen a number of comments from gamers expecting
Salt and Sanctuary
 to totally be out by now (ETA is still TBA) and we haven't really been sure why. Then I found this: the PlayStation announcement article is titled
"Ska Studios' Salt and Sanctuary coming soon exclusively to PS4/PS Vita"
. While we did write the article itself, we didn't title it. The headline is
a teeny bit
 misleading–we'd love to launch as soon as
Salt and Sanctuary
is perfect, but that date shall for the time being remain a nebulous 
to be announced
. Apologies for the confusion and lack of window, but the wait will be worth it. For now, stay tuned to the bottom of this post for some special art.
Salt Streams
Speaking of information, we still are doing thrice weekly dev streams! If you want game updates, that's where to get them. We do these Monday, Tuesday and Friday at 1 PM PST. Check out the Ska Studios Twitch channel for more information. If you can't make the stream at that time, the broadcast will be in the archives.
Sales
We're cleaning out the house and hoping to clean the merch stores so we're putting all shirts at $9.99 and those Z0MB1ES tees at $7.99! Go get 'em at our shop here.
E3
We're going to be at E3! More details to come later. So mysterious.
Art!
Here's some art of monsters from the in-game bestiary! That's right: we've got a bestiary. It populates with new monsters as you kill them, and it'll update as you discover more monster drops. Also, it tracks the number of monster kills and deaths. First Ska Bestiary ever; truly a pivotal moment.