Good Morning Gato #134 – Spy Kitty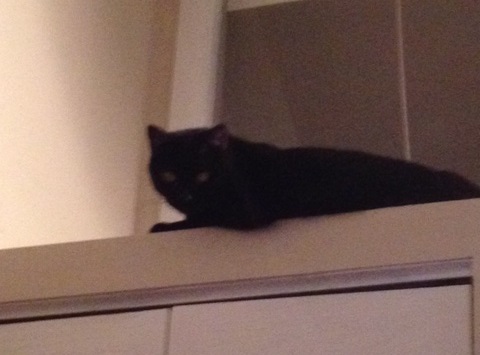 Gato loves to be up high and scope out the room. This ledge above the door is just perfect for spying kitties. Why she's spying on us and not out the window for deliveries of the next gen consoles though, I can't say for sure. On an unrelated note, read more about how violence and charity go together after the break!
Violence for Charity
Every year, the Child's Play Charity holds a
dinner and auction
. This is an extra special year because it's the 10th anniversary of the organization and gamers helping children in hospitals. This is also the first year Ska Studios will be donating an auction item and attending the event! What is that item you ask? It will be none other than
The Violence Hammer life-size prop I made a few years ago
for PAX East. To attend the Child's Play Dinner & Auction, you'll need some tickets. Get those
tickets HERE!
Bid, bid, bid!
Before you inquire: yes, I did say I'd never sell or give away this prop. I did that. But life, like many things, changes, and now it's time for this bad boy to find a new home. Will it be yours?
Merch Discount Heads Up
Thanksgiving is near and so is that crazy, fatal day after, known as Black Friday. My suggestion? Stay at home and buy online that Friday and Cyber Monday! To help entice you to stay away from the crowds and chaos, we'll be providing a 30% off discount code starting Friday, November 9th good until December 13th. I'm also looking into making and printing some Ska Studios holiday cards to put up on our merch site for the season! Stay tuned for all that goodness!
————————————————————————————————————–