Good Morning Gato # 129 – PAX' 2013 in the Bag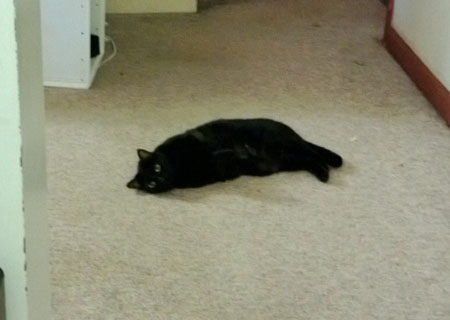 PAX is over and we are wiped out! Gato is pretending to be wiped out too. Maybe she's not pretending though, we're never sure what the cats get up to while we're away.
PAX PAXY PAX PAX
So PAX happened. That was a thing. These shows are normally pretty exhausting and that extra day really came up and punched us in our guts while we were already sucking air from the previous three days.
Anyway, here's a picture gallery on our Facebook page of some things we saw at PAX!
Picture Packs!
Better late than never, two sets of Charlie Murder Pic Packs are now available for a buck each. Choose a pic from Charlie's band facing off a horde of the damned or select a homage to your favorite Gore Quaffer member.


Get Yer Links Here!
Here's some more links!
Oh by the way, here is a Charlie Murder code. Just because you read this deep in: H7PMM-2PHJG-JJGCM-6MFMG-F4VK? where the ? = the first letter of a word for the undead.
8 Bit Horse gives us a crazy, in-depth comprensive history of Ska Studios and a review of Charlie Murder. 
————————————————————————————————————–