Good Morning Gato # 128 – One Week Until PAX Prime 2013!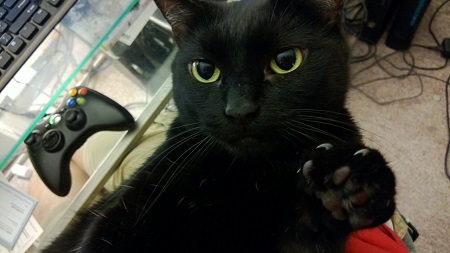 It has been more than a week after launch but there's no time to catch your breath, it's PAX next week! Very soon we'll be getting to catch up with all sorts of great gamers, developers, and antibiotic-resistant microbes (hopefully more of the first two than the third). Gato strikes 
a familiar pose
, almost as if to say something along the lines of: "the wisdom of my kind shall grant peace and terror beyond your wildest imagination."
PAX!
Next Friday, PAX will be upon us. Most of our booth is currently floating through American Groundspace, but by this time next week we should be completely prepared for your excited, precious faces. If you'll be there, please say "hi" and take our free pins, play some more Charlie and perhaps buy some merch! Also, don't forget that James' panel is on Saturday! Check out those details here:
HERE!
Another Link Roundup
More links! Woo!
————————————————————————————————————–