Good Morning Gato # 116 – Joy of Boxes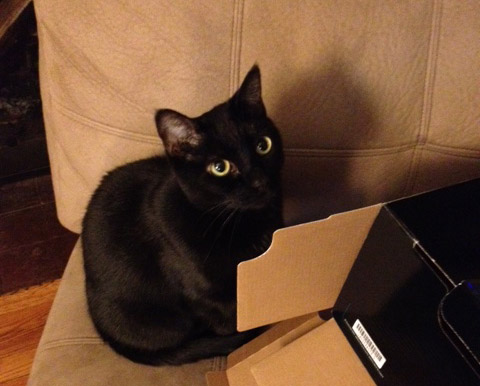 Gato loves boxes. Boxy, boxy boxes.

Burning Questions
As promised here are this week's burning questions. Let us know if you enjoy this new feature of Good Morning Gato and we'll keep doing it!
Q: How many licks does it take to get to the center of a tootsie roll lollipop?
A: 3 or 42 depending on your point of view.
Q: In Charlie Murder, Do gear/stats carry over in drop in drop out multiplayer?
A: Yes. Gear and stats are persistent.
Q: There will be other playable characters in Charlie Murder?
A: For now we're only mentioning the original five band members, but by wording it that way, we may have already given away too much.
Q: What are James's inspiration for the music in Charlie Murder? I'm guessing Bad Brains and Melt Banana. Or did he just come up with it from past experience?
A: Stiff Little Fingers, Exploited, Sex Pistols, Black Flag… Gwar?
Q: What inspired the strange and Gothic art style you used in your games?
A: Much of Dishwasher's style was influenced by Japanese movies like Versus and Machine Girl. Charlie Murder is a bit of Jamie Hewlett meets Return of the Living Dead.  Of course, at the end of the day our style is something we've spent years evolving, and we're stupidly proud of it.
Q: Will Charlie Murder feature a way to delete character stats so you can start fresh if you want to?
A: You won't directly have a way to clear your character stats but you do have five characters to work with, and, as we previously alluded, that number may go up. If you really, really want to start fresh, you can delete your save file or throw your hard drive in the lake, but the game warns against this (well, it used to).
Q: What is your all time score on Dish Challenge in DWVS? Also what are your favorite load outs for Dish Challenge?
A: James' is around 170 million, but he swears he was closer to 700 million on the dev version, which has separate leaderboards. As for favorite load out, James' is Yuki – Conviction and Cloud Sword and Michelle's is Yuki – Conviction and Painkiller.
Q: What would you guys want a fan to ask you?
A: Why did you make this game?  What do you love about it?
Q: How many players will be able to play at once in Charlie Murder?
A: Charlie Murder is a 4 player co-op game. The 31-player Ska Band is a myth.
Q: Bradley Cooper visited Schenectady tonight. Did you privately stalk him and get him to say yes to creating an entire video game about his life – where in the end he gets his head cut off?!? haha
A: Uhm Nope. What? Ok, maybe a little.
Q:How do you feel about others getting your game art as tattoos?
A: It's super humbling, maybe a bit daunting. What if we make a new Dishwasher game, and it's horrible?
Michelle and James Play Video Games
It's a little known fact that we don't have the free time to be playing around but somehow we pretend we do and ended up making a YouTube series we're fondly calling Michelle and James Play Video Games. We have only Dark Souls videos up so far, and they may be cringeworthy.
And finally to end on an awesome note, look! Dishwasher plushies!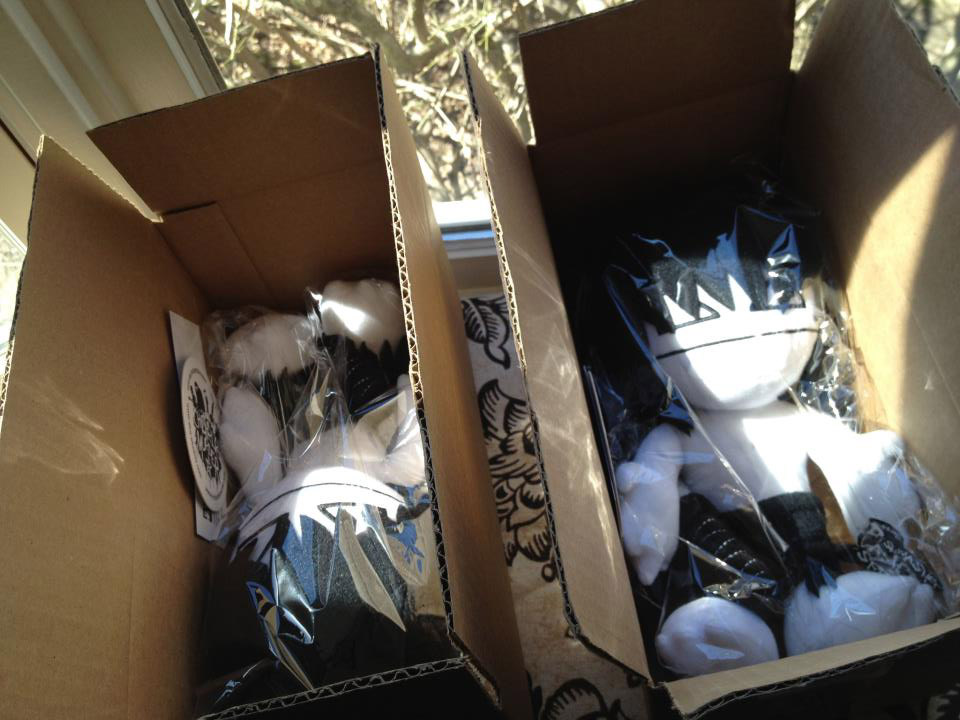 ————————————————————————————————————–