Good Morning Gato # 106 – And A Happy New Year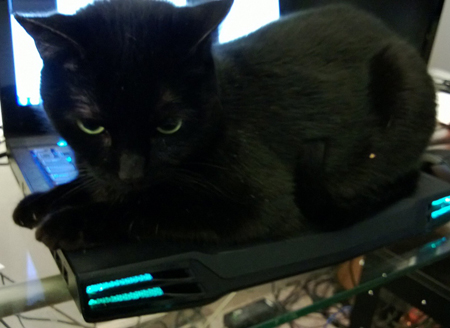 Baby, it's cold outside here in the North East. Gato knows where all the good warm spots are and doesn't give a single kitty biscuit how it impedes productivity.

Welcome to 2013 every Ska bro!
2012 was a busy, busy year for Ska Studios. Here's a recap of some of this year's bigger moments.
January
2013, The Future
Charlie Murder continues to be worked on! I know we've toyed with your emotions in the past but we're confident that this year Charlie Murder will be available on Xbox LIVE Arcade at some point.  Of course, we've been saying all along that the game will come out "before the Mayan apocalypse," so technically, we never lied…
So, This is a Thing
James discovered this a while back but I'm just now seeing it. I've always wanted a Super Smash Bros style fighting game involving Ska Studios characters, but we may have been beaten to the punch by Indie Action, a freeware project from DrSceneful.   We've been a bit quiet about our mutual dream of one day seeing The Dishwasher face off against Charles Barkley, but now that that's all water under the bridge, we should probably be more open about our desire to see The Fallen Engineer appear as a playable combatant in one of the many Shaq Fu fan sequel projects out there.
2013 should be an interesting year. Keep your eyeballs fixated on our blog for our updates. Happy New Year everyone!