Good Morning Gato # 100 – A History of Gatos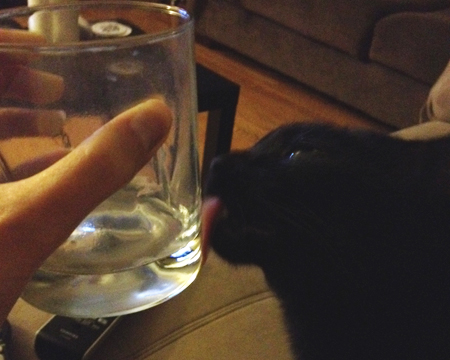 There are now 100 Good Morning Gatos! Bottoms up! Or in Gato's case, bottoms lick!

Recap
Here comes a big 'ol recap, so get your tea and crumpets ready. Gonna eat so many crumpets, it's gonna be a crumpacalypse (spoilers).

January 2010:
*The first Good Morning Gato, written by Dustin Burg, took place on the frosty morning of January 29th, 2010. That's about 1 year and 9 months of Gato pictures!

February 2010:
*Vampire Smile announced.
March 2010:
*Thanks to Dustin, Ska Studios finally got its own merch store where fans could buy up shirts and posters, decorating their homes and bodies with Ska Studios flare.
*The first PAX East and first PAX Ska Studios exhibited at! Charlie Murder is announced for XBLIG.
May 2010
*Charlie Murder hits the big time and is accepted for Xbox LIVE Arcade!


July 2010
*Ska Studios made a big move. A move from an apartment to a house!
September
*PAX Prime!
December 2010
*ZP2KX releases!
——–


January 2011
*January seems to be a fateful month because the January of 2011, Michelle (I) joined Ska Studios, increasing the team size to three!
February 2011
*I wrote my first Good Morning Gato.
March 2011
*Another PAX East comes and goes but this time with more Michelle! This was the first PAX I officially exhibited with Ska Studios. This post, complete with a great set up video of our booth. We'll have to do that again some year.


April 2011
*I introduced a new section on the Ska Studios page infamously known as "The Art Unicorner".
Vampire Smile launches!


May 2011
*Dustin kept up the Friday updates awesomely but this month, Dustin left Ska Studios for the bay city of San Francisco. We still miss our little ball of joy but Michelle(I) took up the task of continuing the tradition of writing Good Morning Gato.


September 2011
*PAX Prime once again. This time with more marriage proposals!
——–


January 2012
*Z0MB1ES (on teh phone) launches, marking the first Ska Studios game on another platform other than the Xbox360!
July 2012
*Like every month since our engagement in September, this one was crazy busy but we're married now! No more wedding planning for me, EVER! That one deserves another round.


August 2012
*After a scattering of GMG hiatuses, the Friday updates finally become regular again. Hopefully, for a longer haul.
October 2012
*It's October already?! WHAT THE FLUFFY SQUIRRELS HAPPENED TO THIS YEAR?!
November 2012
*???The future???
Thanks for reading for 100 Good Morning Gatos. Here's to 100 more!
Another Little Self Shout Out
I've now successfully had four days of monster streaming on my Twitch.tv channel. I've been recapping these on my fresh, new personal blog. Woo, go monster(s)! Tell your friends! The stream is way more fun with more people to chat with while I do my monster drawing thing.