Good Morning Gato # 97 – Oppa Gato Style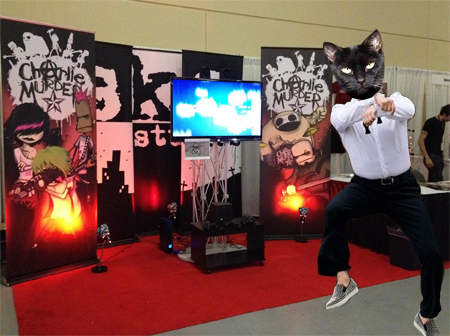 We went to PAX! Gato sends her regrets that she was not able to attend as she was tied up all weekend in an international business meeting. Be extra sure to click all the clickables in this week's Good Morning Gato. You wouldn't want to miss a single brilliant gem.
PAX Recap n' Links
PAX WAS AWESOME! We had an amazing time meeting everyone, playing games and showing off Charlie Murder to our favorite people. I could just be biased, being from the Seattle area, but I find PAX Prime to be the best trade show we attend. The Indie Megabooth was bigger and better this time around and seems to be growing and improving immensely with each event. We'll get up more photos this weekend so be sure to stay tuned.
Scott Nichols, OXM, got his hands on some Charlie Murder and wrote this glowing preview!
If you missed the Twisted Pixel/Ska Studios music session at PAX Prime, enjoy this video of Dan, James, and Chainsaw playing "Mandy". The trio also played I MAED A GAM3 W1TH Z0MB1ES 1N IT!!1 for your auditory pleasure. This was the first time the song has been played live!
We've posted a few cosplays in the past but never have we met one in person! This gent stopped by, stood behind the currently playing crowd and casually watched the average dressed folk play Charlie Murder. Of course, I had to leap over and get this photo:
And now, a video found via a YouTube search of some folks playing
Charlie Murder at PAX Prime 2012!
Note this part was not in the official demo. Someone must have debug menu navigated their way here. HACKZORS!
Behind Every Great Megabooth
The Indie Megabooth would not be possible without the great organizing powers of Kelly Wallick. This Behind The Scenes Interview with Kelly from The Verge tells a bit about what it is to organize the daunting task that is the Megabooth. Seriously, Kelly is amazing.
Indie Comradery
If you aren't already aware of Steam Greenlight, go ahead and educate yourself. In order to combat the initial flood of junk (and totally copy XBLIG), Valve introduced a $100 fee (proceeds to be donated to Child's Play) to submit a game pitch. Much ado was made, with opinions ranging from complaints about the fee becoming a restriction on poor indie developer hopefuls to applause for the noise-cutting measure, with the caveat that if you can't afford $100 to make a pitch, you probably can't afford to make the rest of the game either. Whatever your opinion, if you're looking to submit a game, have a really promising pitch, and for some reason lack the 100 bones, Dejobaan would like to help you out. If you're a generous, established indie dev yourself and would like to pitch in, you can let the fine folks at Dejobaan know at support (at) dejobaan (dot) com.
To finish off this Good Morning Gato, please enjoy a few links:
Our Favorite Indie Games at PAX Prime